Toyota Supra mkiv



Kevin's Mkiv

I own a Red 1994, 6 speed TT MKIV Supra imported from Japan which I bought in New Zealand during February 1998. I first 'discovered' the Supra through a Wheels magazine article (now on this site) about the 12 fastest cars in Australia. The Supra won me over at that moment with its great looks, superb handling and awesome passing acceleration. From 100 to 130 km/h it was a full half second quicker then the next fastest car in that top 12.

I am the Webmaster for this Supra website.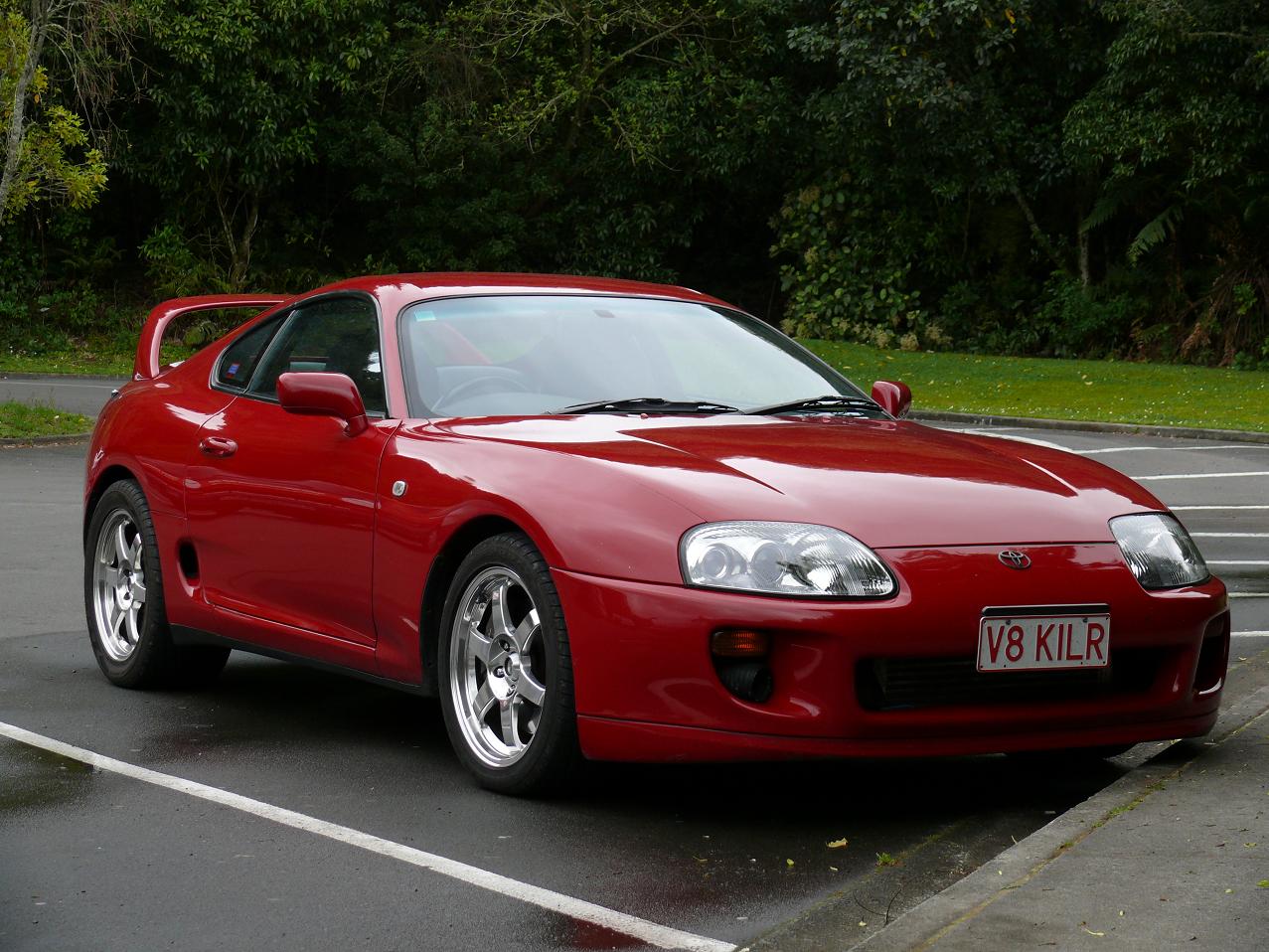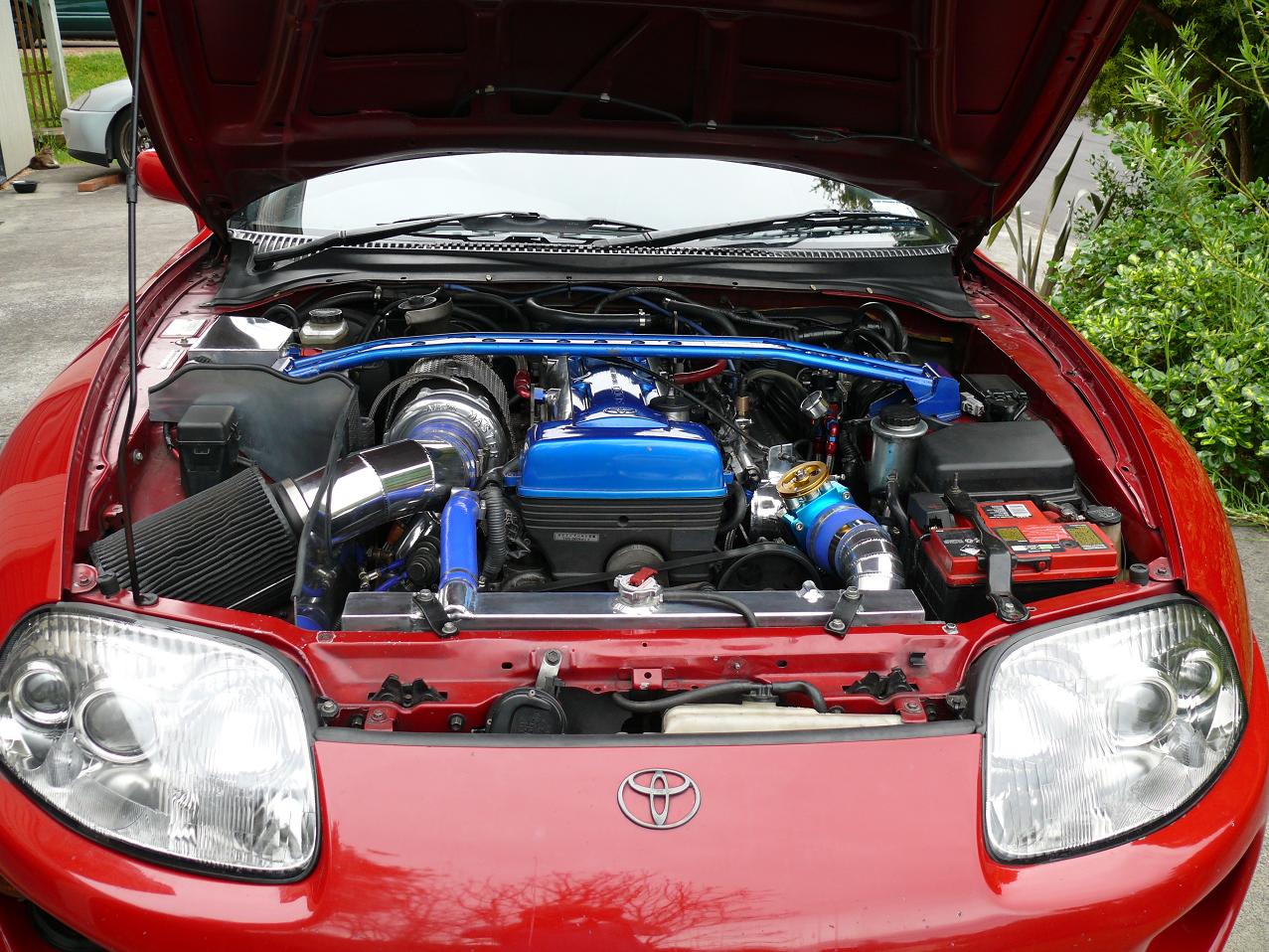 Trophy Race Results:
NSDW (Night Speed Drag Wars) 2005\2006 series - 2nd place C2 (2WD turbo) class
NSDW (Night Speed Drag Wars) 2004\2005 series - 1st place C2 (2WD turbo) class
NSDW (Night Speed Drag Wars) 2003\2004 series - 1st place C2 (2WD turbo) class
NSDW (Night Speed Drag Wars) 2001\2002 series - 3rd place C2 (2WD turbo) class
Best Performance:
Taupo racetrack - 45.38 secs on 6th December 1998
Pukekohe racetrack - 1m 9.83 secs on 16th May 1999
Meremere dragstrip - 10.949 @ 129.79 mph (208.88 km/h) on 7th November 2008 (60ft = 1.697 sec)
Meremere dragstrip - Best 60ft time is 1.554 sec on 23rd March February 2007
Meremere dragstrip - Best MPH is 129.85 mph (208.98 km/h) on 29th April 2007
Meremere dragstrip - Best 1/8 mile ET is 7.042 @ 102.71 mph (165.30 km/h) on 31st January 2010
Meremere dragstrip - Best 1/8 mile MPH is 104.22 mph (167.73 km/h) on 7th November 2008
Magazine Articles: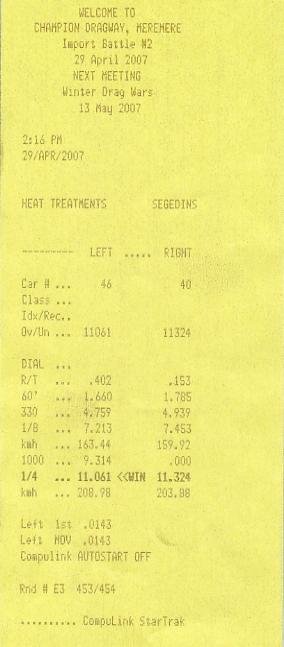 Gavin at Hi Velocity on the North Shore dyno'd my car on their Dyno Dynamics dyno on Nov 19th 2010 and I got 449rwkw at 22.5 psi boost.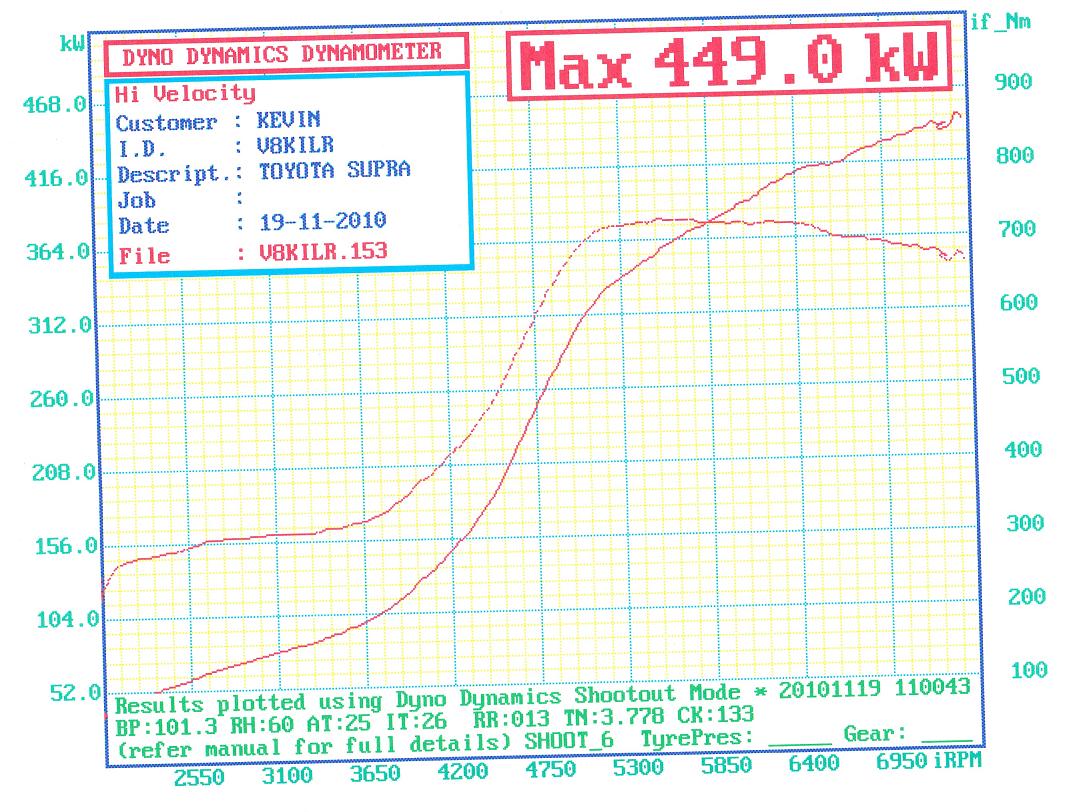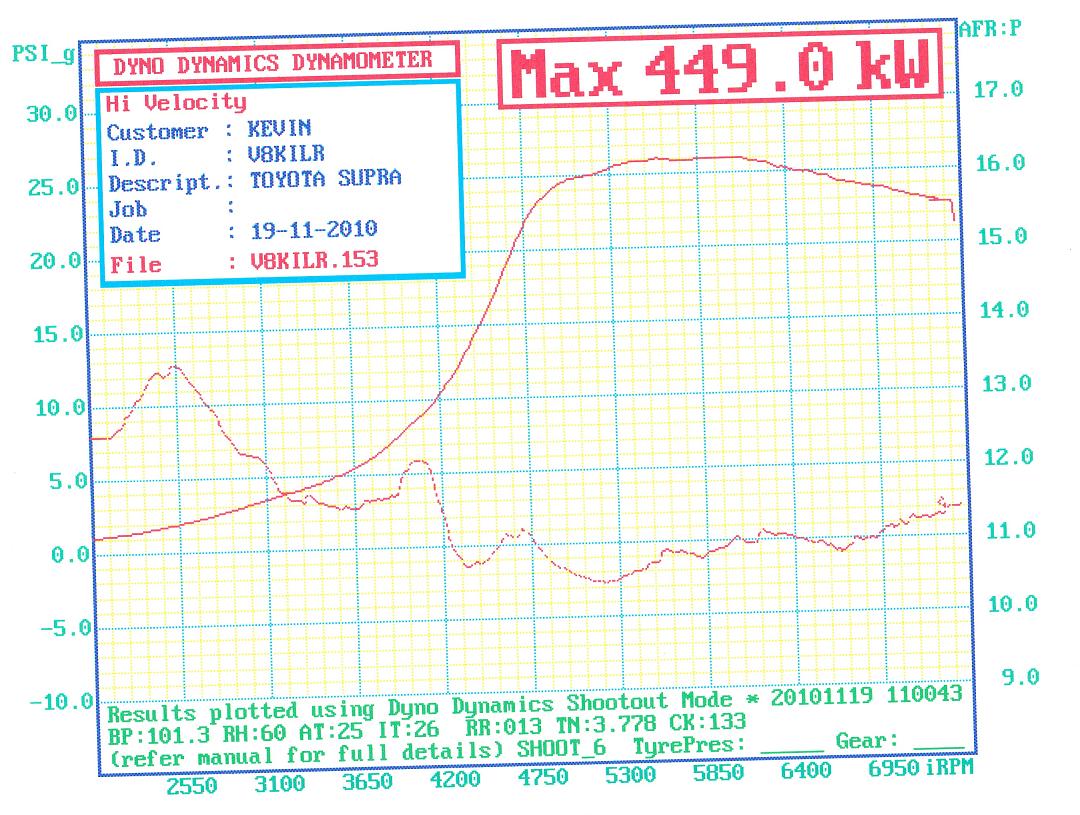 Engine Modifications:
Master Power T70 turbo with 3.5" exhaust with AR 1.00
6Boost exhaust manifold (twin entry)
Turbosmart 60mm external wastegate
Crower 272 inlet and exhaust cams (10.5 exhaust, 10.3 inlet), currently set to zero degrees
Street head porting and port matching to manifolds
Brian Crower 1mm oversize valves
Brian Crower rods with ARP 625 rod bolts
CP 86.5mm forged pistons with factory crank
ACT XTreme +50% pressure plate with vacuum hydraulic clutch (to reduce pedal pressure)
TRD clutch plate with factory flywheel
600mm x 300mm x 100mm non-brand name intercooler
Twin 14" electric fans with 60mm thick custom aluminium radiator
Four factory blowoff valves (Yes, 4 of them!)
Custom intake manifold with 80mm throttle body
Huge K & N Pod filter
Custom cold air box and twin cold air feeds to it
Running a 3.5" downpipe to 3.5" mandrel exhaust system with two large mufflers making it reasonably quiet
Fuel System Modifications:
Rochester top feed 1000cc injectors with a Link Electrosystems 6 ohm resistor pack
Titan Motorsports fuel rail
Aeromotive A1000 -10 fuel pressure regulator with std fuel lines
Removed the factory fuel pressure pulsation damper
Single Pierburg 800 fuel pump installed in tank. These pumps are good for around 530rwkw at 11:1 A/F.
Other Modifications:
Apexi (AP Engineering) PowerFC ECU with 8500rpm limit running up to 26 psi on 98 octane fuel with Nolan Octane Boost
Volks racing wheels (17" x 9.5" rear, 17" x 8" front)
Kuhmo Ecsta Supra 712 tyres (285/40-17 rear, 255/40-17 front)
Mid 1995 on factory BIG Supra brakes (awesome)
Whiteline "handling pack" with 30mm front (+50%) and 20mm rear (+30%) swaybars with polyurethane front bushes
Factory Bilstein shocks revalved - front +50%, rear +30%
Aftermarket springs (unknown brand) lowering car by about 40mm front and 30mm rear.
manual Turbosmart boost controller
TRD engine bay strut brace
Everything else on the car is stock
Previous Modifications (now obsolete):
Garrett GT35R then Greddy T78 then Turbonetics T72 then Turbonetics T76
Greddy 180 km/h Speed Limit Remover
Greddy BBC (Boost Cut Controller) set to 4.35 volts
Upgraded US turbos to Garrett GT3540 with exhaust AR=0.83 and then to Greddy T78 turbo (AR=1.03)
54mm external wastegate (adapted from the Jap exhaust bypass valve)
Upgraded stock turbos to USA turbos
Upgraded factory intercooler to a FMIC made up of 3 factory intercoolers welded end to end (600x275x125)
Upgraded Jap spec inlet cam to USA inlet cam
Upgraded factory fan to a single 14" electric fan
Upgraded to a 3.5" exhaust starting from 2 into 1 turbo manifold
Upgraded to a 3.5" in/out Borla oval muffler
Upgraded factory 16" wheels to Factory 17" wheels
Black 52mm boost gauge (psi) in clock location
Tweeked boost using a manual bleeder for up to 20 psi boost.
Fuelmate Fuel Controller (now uninstalled)
Pics as at 31st August 2003.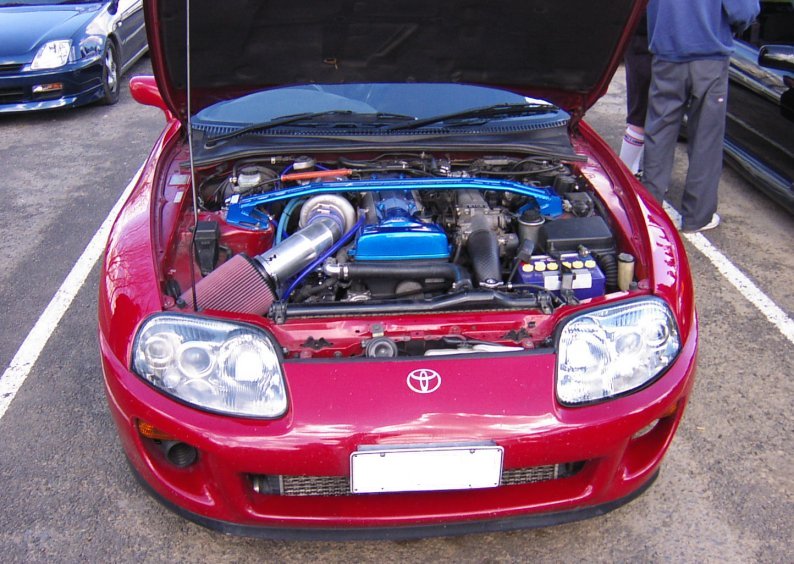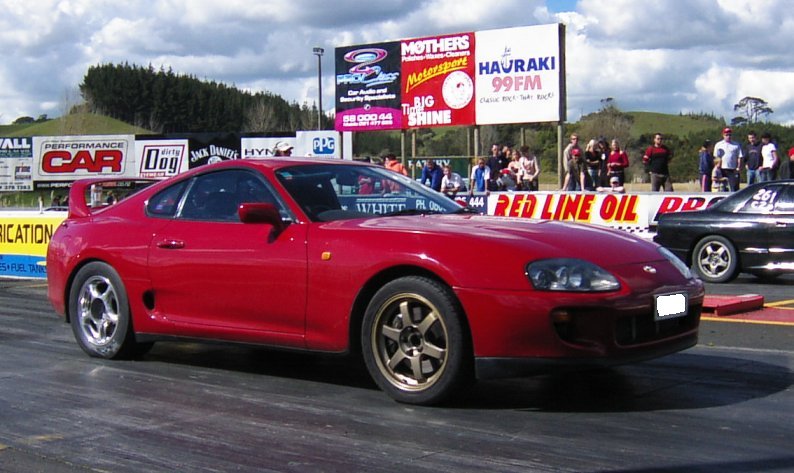 Pics as at 17th September 2001.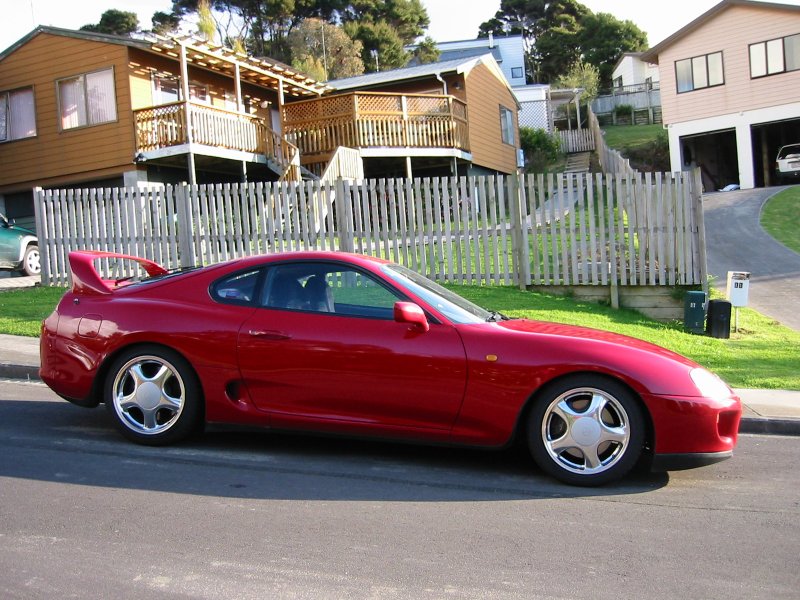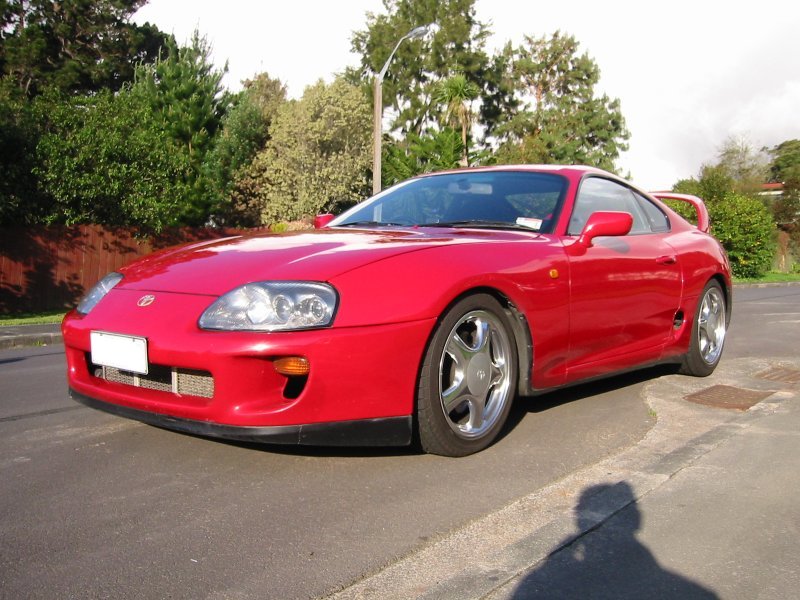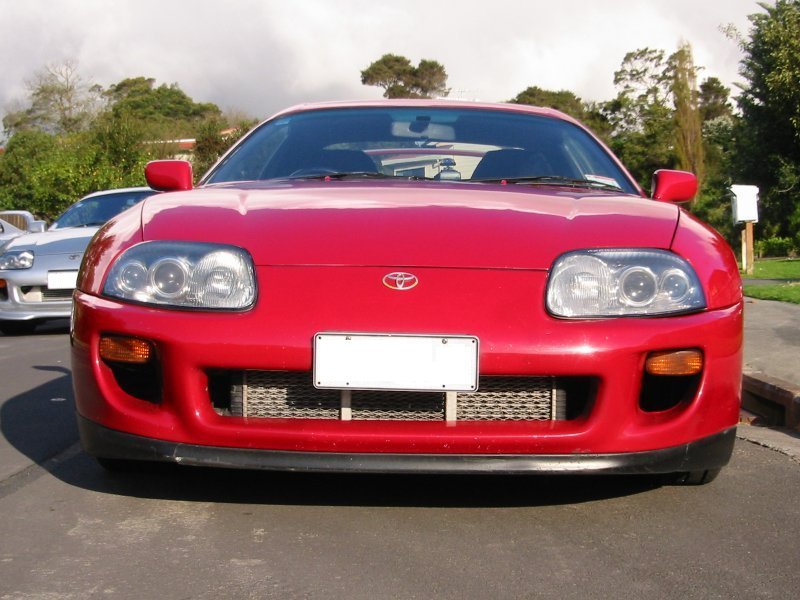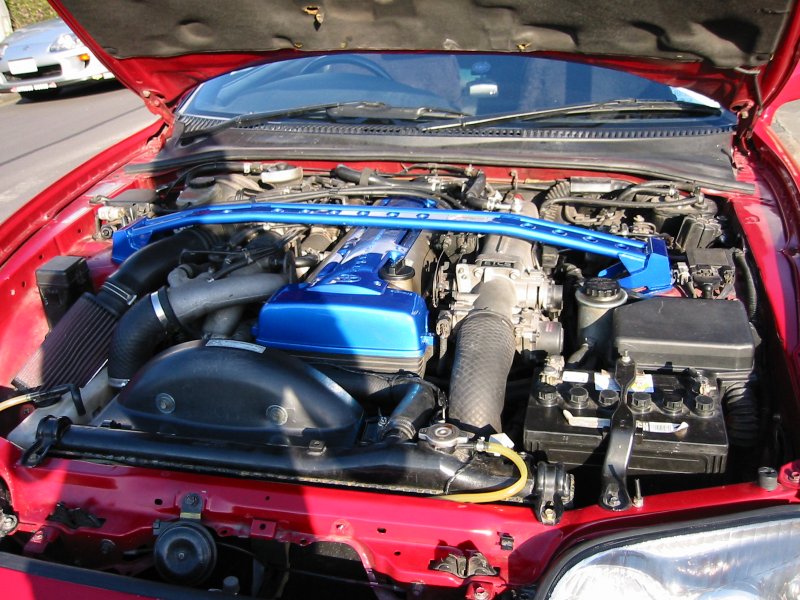 The two silver Supras belong to Justin (left) and Andrew (center) while mine is the Red Mkiv Supra.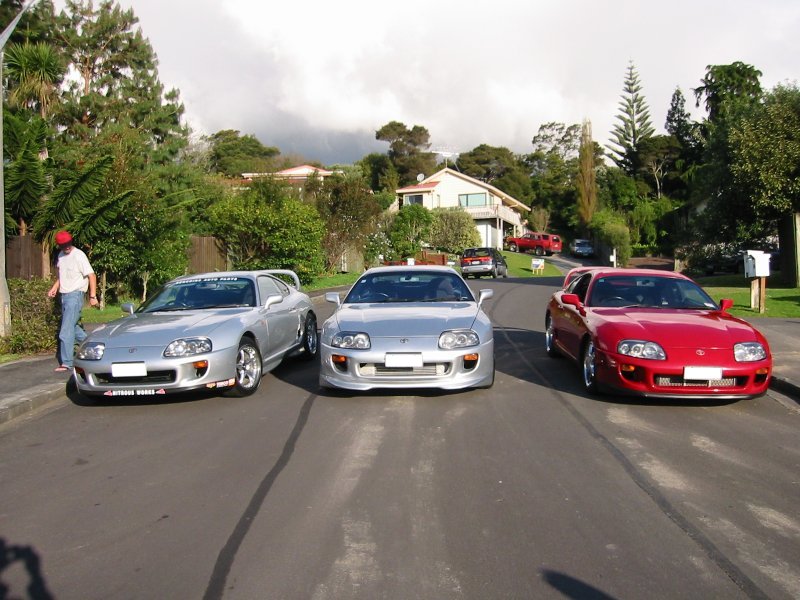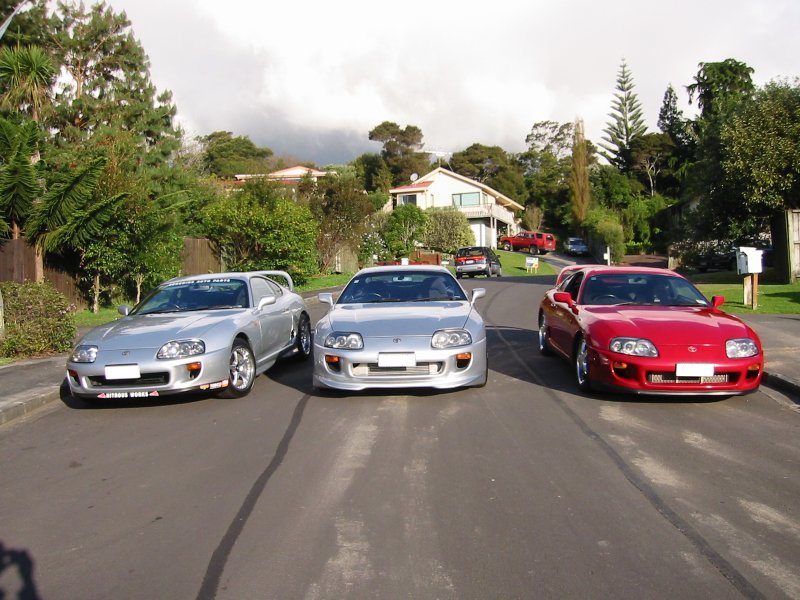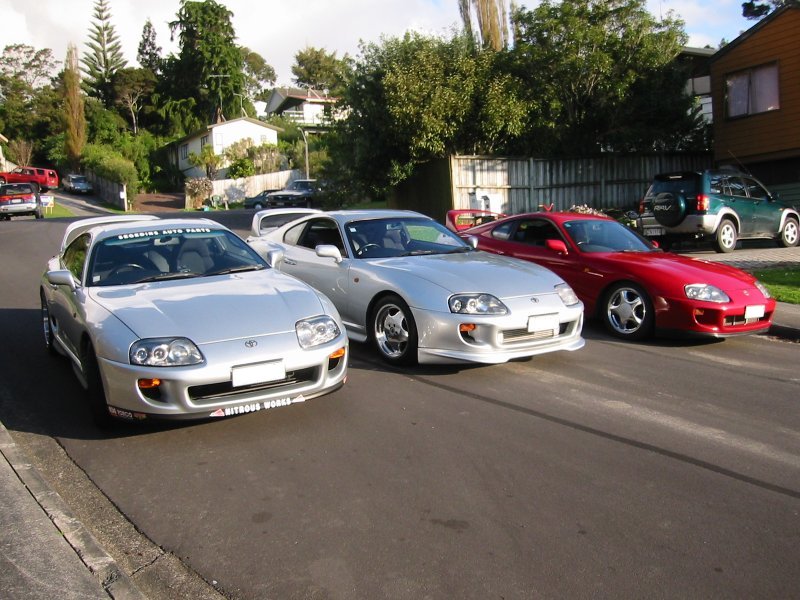 Below are older pics from 1998 to 1999 era.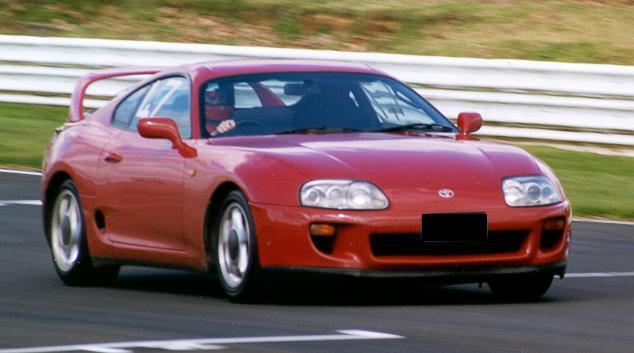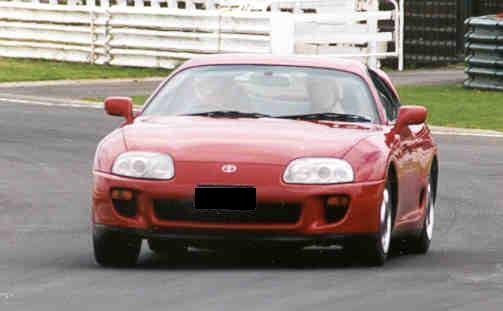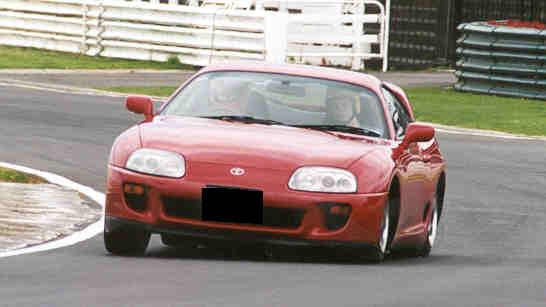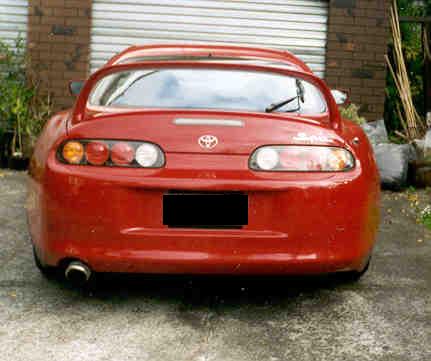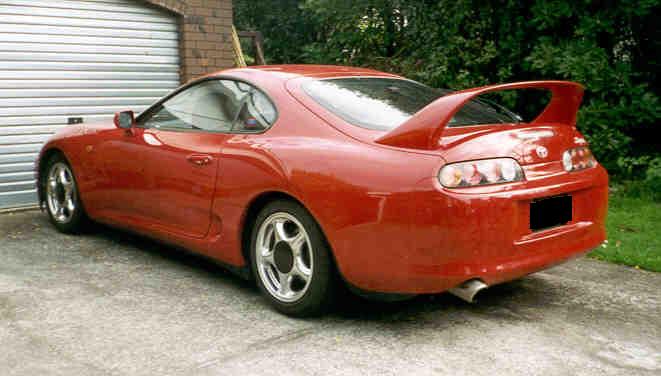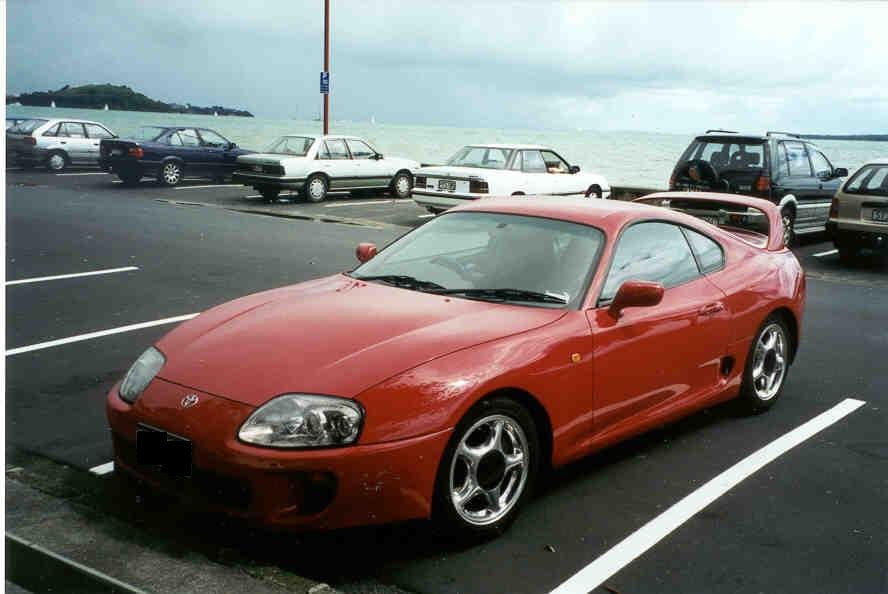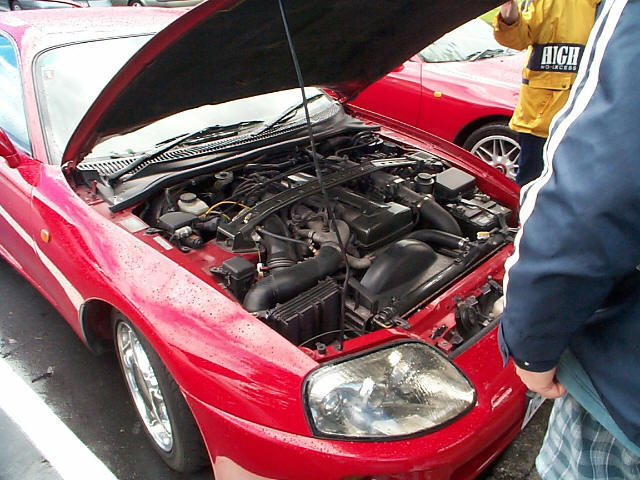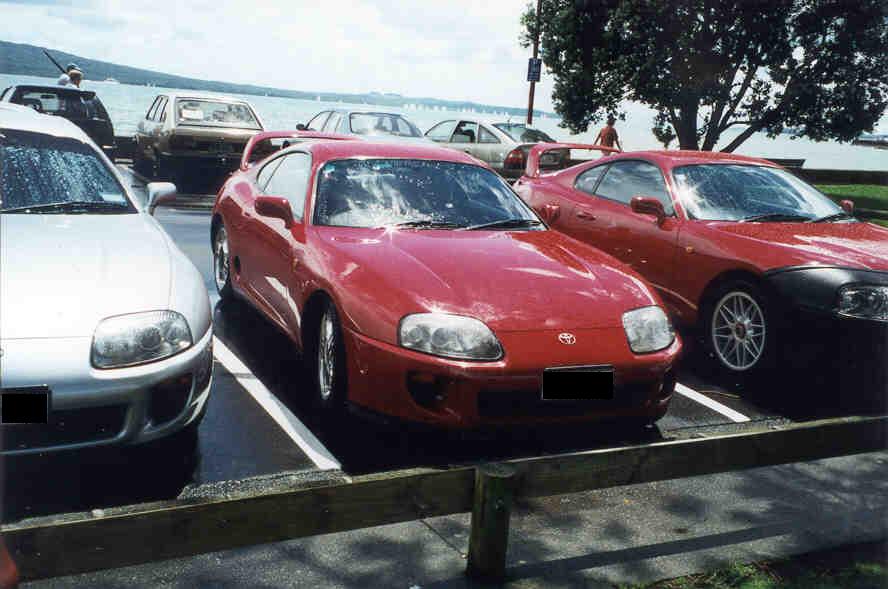 ---
Back to Home Page

Thanks for visiting mkiv.co.nz
Last modified on Wednesday, November 24th, 2010